Hurt In A Car Accident? We Can Help.
You're not just casually browsing the web if you have landed here… You or someone close to you has been in a car accident, and you need help.
Don't face this stressful situation alone. Find out how our team can help you navigate through the steps you need to take by taking a minute to watch the video below.
IMPORTANT: If you've been in a car accident, please seek medical attention immediately.
Your Accident... What To Do Next
How We Help With Your Car Accident

Common Questions You Might Ask
Who pays my medical bills?
A common question that people who have been injured in automobile accidents have is who will be responsible for paying their medical bills. Accident victims may be left facing staggering medical bills combined with a reduced ability to earn an income. If you have been injured in an accident, it is important for you to understand the collateral source rule.
The collateral source rule is a common law principle that states that the person who is responsible for causing your accident because of negligence cannot have the amount that he or she is ordered to pay you reduced by payments that may have been made by an independent source. For example, if the liable party is found to be responsible for causing $100,000 in medical expenses for your injuries, that amount cannot be reduced by amounts that your insurance company might pay out of the total amount.
If the other driver caused your accident, his or her insurance company will pay for your medical expenses up to the policy limits for bodily injury in a car accident settlement or a verdict award. Until you receive the payment from the at-fault driver's policy, your own health insurance will pay your medical bills. If you do not have health insurance, your attorneys will work to negotiate down the total amount that you have to pay for your medical costs.
Who fixes my car?
Another common question that accident victims have is who will pay to fix their vehicle or to replace it. If your car is repairable, and the at-fault party accepted liability, his or her insurance company will pay to have it repaired. If your car is repairable, and the at-fault party has not accepted his or her responsibility, the situation will be different. If you have full-coverage insurance, your company will pay to repair your vehicle. The company will then go after the at-fault driver's insurance company for reimbursement after his or her liability is determined in your case.
If your vehicle is totaled, the at-fault driver's auto insurance company will determine the value of your vehicle and write you a check if the driver has accepted his or her liability. If not, you can submit your claim to your own full-coverage insurance to replace your vehicle as described above. When the at-fault driver's liability is determined in your case, your company will then go after the at-fault driver's insurance company for reimbursement.
How much is my case worth?
Every car accident case is different. There isn't a single, easy answer for determining how much a particular case is worth. The amount that you might expect to receive in compensation for your accident will depend on a number of different factors, including the nature, severity, and extent of your injuries, the likelihood that you will recover, the time that you have lost from work, your medical bills, and others. Your attorney will analyze the facts of your case to calculate an estimated value of your case.
Will I get paid for lost wages?
If you have income losses from the time that you were forced to take off from work because of your injury accident, these amounts are recoverable in your personal injury claim. However, your income losses and the time that you have lost from your job must be documented by your employer. You can also show your doctor's order for you to not work while you were recovering.
Your tax returns will come into play if you are self-employed. This is because you will have the burden of proving your income losses and other damages. You might also need to hire an economist as an expert witness to prove that your accident caused you to suffer income losses and will likely reduce your ability to earn an income in the future.

Pain and suffering
Pain and suffering is a type of damages in South Carolina that are considered to be non-economic or general damages. Pain and suffering damages are designed to compensate you for the physical pain that you suffered as well as the emotional reaction that you had in response to your pain from your accident. Juries are instructed that there is not a set standard for how to determine the amount of compensation to award for pain and suffering or to determine whether or not to award it at all. Instead, jurors are supposed to use their own reason to decide what amount to award for pain and suffering in light of the testimony and evidence that they have been presented.
What is the average auto accident settlement?
As was previously mentioned, no two injury cases are alike. This means that you can't simply call up a personal injury attorney and expect him or her to tell you what type of settlement you will receive for your injury in a car accident. Instead, the attorney will need to review the evidence from your case and your expenses to determine a range of values within which you might expect a reasonable settlement amount to fall.
Jury charges at trial in regards to damages
Alt title idea: Are juries involved in car crash cases? If we do this, we'll need to answer this and then transition in the content.
If your claim goes to a jury trial, the jury will receive several instructions about the potential damages. Your attorney may ask for the jury to receive instructions about actual damages, loss of enjoyment of life, personal injuries, prospective damages, life expectancy tables, punitive damages, recklessness, and punitive damages in negligence cases if they are applicable.
If the jury decides to issue its verdict in your favor, the actual damages instruction tells them that they must calculate the actual damages by determining what you would need to place you back in the same position as if your accident had never occurred. The loss of enjoyment of life instruction explains to the jury that if you have been limited by your injuries from being able to enjoy your life, that limitation is compensable.
The personal injuries instruction explains a few things to the jury. It tells them that your actual damages include your noneconomic losses, including your pain and suffering, mental anguish, impairment of your physical condition or your health condition, and any disfigurement that you received. It also instructs the jury to consider both past and future losses that were caused by your injuries. Plaintiffs are able to recover the future expected losses that they might incur as a result of their accidents and injuries.
The mental suffering instruction explains to the jury what mental suffering is and that it is a recoverable loss. The life expectancy instruction may be used in cases in which the plaintiff has been seriously and permanently injured, resulting in a permanent disability. It may also be given in a wrongful death case when the jury is trying to calculate the future income losses of the decedent's income. The punitive damages instructions may be given in cases that involve defendants who have engaged in particularly egregious conduct. Punitive damages will not be available in every case, however.
What is a personal injury attorney?
A personal injury attorney is a tort lawyer. This type of attorney represents people who have been injured because of the negligent acts, negligent omissions, or intentional acts of other people or entities. Tort law encompasses many different types of claims, including the following:
When you retain a car accident attorney, you will be hiring a personal injury lawyer whose practice includes representing people who have been injured in motor vehicle accidents because of the negligence of other drivers or parties.
Should I hire a car accident lawyer?
If you have been injured in an accident that was caused by someone else, you should hire a car accident lawyer. While you can likely handle a claim that only involves property damage on your own, injury claims are more complex. Hiring a car accident lawyer for your injury claim can help you to ensure that you receive fair compensation for your losses.
Most car accident attorneys do not charge any money upfront. Instead, they practice under a contingency fee basis. A contingent fee is a percentage that a car accident attorney will take from the total amount that he or she is able to secure for you in a settlement or through a verdict award. Contingency fees may range from one-third of your recovery amount to 40%. Choosing a lawyer based on his or her contingency fee percentage is not always the best idea. Some attorneys who are less experienced charge lower percentages while more experienced lawyers might charge higher percentages.  An experienced car accident attorney can also help you secure a Letter of Protection for any medical care you need. This can ensure your doctors provide top-tier care with the guarantee that they'll be paid from any settlement you receive.
Since a car accident attorney who charges a contingency fee will not be paid unless he or she is able to recover compensation for you, he or she will likely only accept your case if you have a good chance of winning. When you meet with an attorney, ask about his or her fees. The lawyer should also be willing to provide you with an honest assessment of the winnability of your claim and to give you some steps that you might take next.

How do I pick a car accident lawyer in Myrtle Beach?
Multiple factors should go into your decision about the car accident lawyer that you choose to represent you in Myrtle Beach, South Carolina. When you need an attorney, it is common for well-meaning family and friends to make recommendations of attorneys who have helped them. However, you should make certain that a lawyer that you consider focuses on car accidents and personal injury claims instead of being a general practitioner. Ask an attorney that you interview what percentage of his or her practice that he or she devotes to car accident claims. You should also ask about your attorney's record and how many cases that he or she has taken to trial.
You can also research a potential accident attorney online. Complete a Google search of the attorney's name, and read any Google reviews that you find. You can also check legal rating sites such as Avvo.com. Look for a personal injury lawyer who has a rating of 10 out of 10 on Avvo. It is also a good idea for you to choose a local attorney instead of hiring someone from somewhere else. Local personal injury lawyers know the court personnel and the judges. They also know the attorneys that make up the local defense bar and the insurance adjusters that handle the claims for different insurance companies in Myrtle Beach.
A local attorney may give you an edge in your claim. Since he or she will know all of the players, he or she can give you more insight about what to expect as your case progresses. Finally, choose a car accident lawyer who is active in the community. It is always best to pick a lawyer who believes in giving back and with whom you have a good rapport.
Choosing an attorney that you trust is important. When you retain a personal injury lawyer, you will need to work together with him or her for months or years as your case progresses. You should pick an attorney that you trust to give you good information and who will respond to your questions when you have them. A good attorney should be willing to keep you informed about your case and to explain each phase of the process. Learn more on South Carolina Car Seat Laws.
Car accident facts/statistics for Myrtle Beach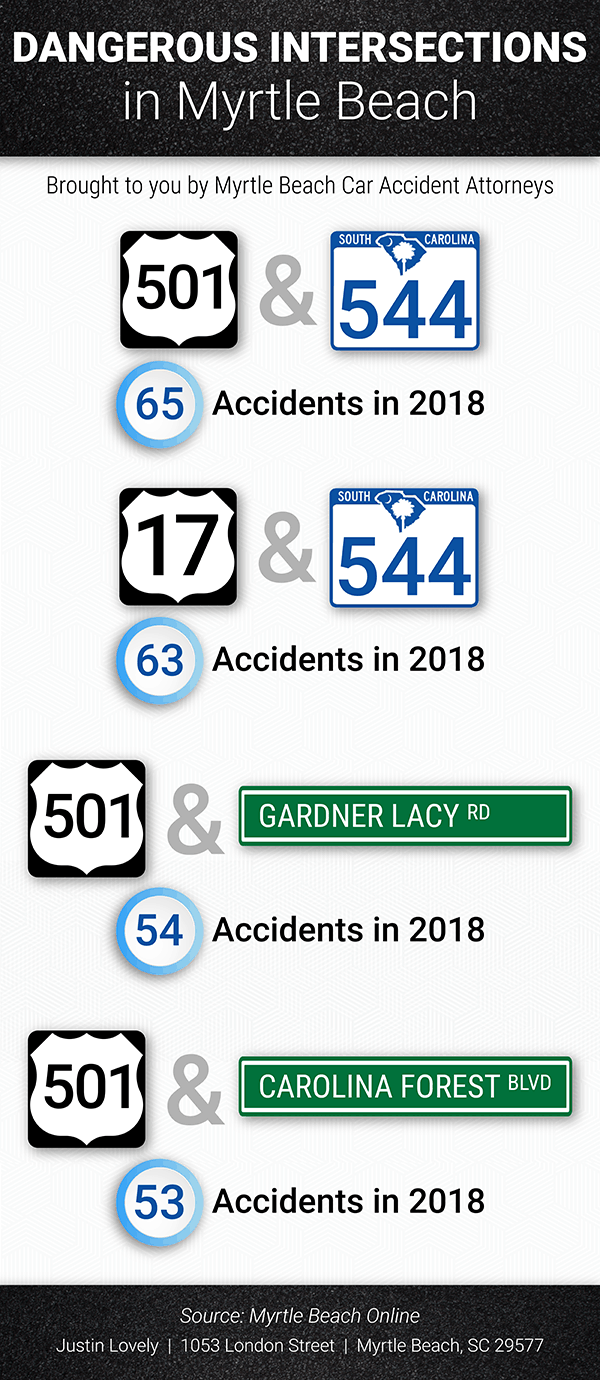 Myrtle Beach tends to have a much higher number of accidents during the tourist season because of the huge influx of people into the city who do not know our roads. While accidents can happen anywhere, there are certain intersections in and around the city and throughout Horry County in which they happen more frequently. According to a report in Myrtle Beach Online, the most dangerous intersection in the county in 2018 was located where Highway 501 intersects with S.C. Highway 544. U.S. Highways 17 and 501 both contain some of the most dangerous intersections in the county by the number of accidents.
In 2018, the intersection of Highway 501 and Highway 544 had 65 accidents. Fifty-four wrecks happened at the intersection of Highway 501 and Gardner Lacey Road. The highway's intersection with Carolina Forest Boulevard had 53 crashes in 2018, and there were 44 collisions at its intersection with Grissom Parkway and 43 at its intersection with Seaboard Street.
According to an interview that was conducted with Myrtle Beach Police Sergeant John Bertang by WMBF News, many accidents happen at these and other intersections because of the influx of tourists and because of distracted driving. He said that he has investigated many rear-end accidents in the city that were caused by driver inattention.
Car accidents can result in serious personal injuries or fatalities. If you have suffered an injury or have lost a loved one, you should talk to an experienced Myrtle Beach car accident lawyer as soon as possible. A lawyer from our firm can assess your potential claim and provide you with an assessment of its value.
Not in Myrtle Beach? We serve many areas in South Carolina. Get in touch with one of our experienced car accident lawyers in Florence, car accident lawyers in North Charleston, car accident lawyers in Columbia, or car accident lawyers in Murrells Inlet.
What Our Clients Have To Say
"Everyone at the office is super friendly. I was hurt in a car accident and they took care of my needs. Highly recommend"
Matthew C
Rating: 5/5 ⭐⭐⭐⭐⭐