Workers Compensation Cases
If you have been injured on the job, you have rights! And you need a Myrtle Beach Worker's Compensation Lawyer who understands the process.
South Carolina Workers Compensation laws are designed to protect the victims of job-related injuries. Injured employees may be entitled to compensation for loss of earnings, compensation for permanent injuries and past or future medical expenses.
Were you injured on the job?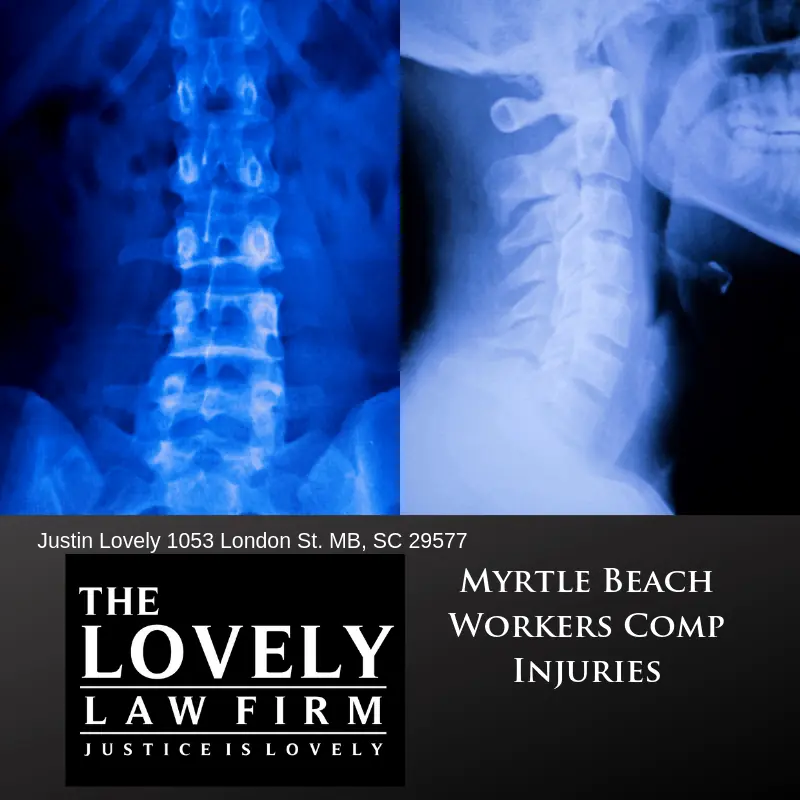 Notify your employer IMMEDIATELY! Many claims are denied because your employer is not notified of your injury within 90 days of when you became aware of your injury.
Do NOT give any written or recorded statements to the Insurance Company without speaking to an attorney!
Worker's compensation cases are very complex. Often we have to deal with third-party claims, liens, the onset date of injury, and other legal issues that are common to the workers' compensation case. We have experience in all areas of worker's compensation. Stop the worrying and headaches.
Workers' Compensation
No matter what type of job you might have, it is possible that you might suffer a work injury or occupational illness in Myrtle Beach. When people suffer work-related accidents or illnesses, they may face mounting expenses combined with income losses. You might be left with substantial medical expenses and be unable to return to your job for a lengthy period while you are recovering.
To protect workers who have been injured or have contracted illnesses because of their jobs, South Carolina has a workers' compensation system in place. Workers' compensation pays benefits to injured and ill workers so that they can be protected and can meet their basic financial needs. The attorneys at the Lovely Law Firm are experienced with handling workers' compensation claims. We believe that workers who have been injured or who have developed work-related illnesses are entitled to recover benefits. We aggressively advocate for our clients to help them to recover the benefits that they should receive. Here are some things that you should understand about workers' compensation.
What is workers comp?
Workers comp is a type of insurance coverage that employers in South Carolina must carry. When people are hurt at work, they can file claims with their employers' workers' compensation insurance carrier. Unlike other types of personal injury claims, injured and ill workers are not required to prove fault or negligence to recover compensation from workers' compensation insurance. In exchange for the ability to file claims through workers' compensation insurance, workers give up their rights to file personal injury lawsuits against their employers.
Workers' compensation insurance benefits can compensate you for your medical expenses, including doctors' visits, ongoing care, prescription costs, rehabilitation, physical therapy, and prosthetic devices. You will not have to use your medical insurance or pay any copays or deductibles. If your work-related injury or illness prevents you from returning to your job for a lengthy period, you might also be able to recover monetary benefits that replace a percentage of your regular income up to a maximum amount. Finally, certain family members of fatally injured workers in workplace accidents can recover compensation to pay for their loved ones' funeral and burial costs and to replace a percentage of their lost incomes.
What types of injuries are covered by workers' compensation in South Carolina?
According to the Bureau of Labor Statistics, work accidents and injuries are relatively common. In 2017, which is the most recent year for which information is available, the BLS that there were 2.8 million non-fatal injuries that occurred in private places of employment. Among those who were injured, 882,730 were forced to miss days from their jobs. In South Carolina, private industry employers had a work injury rate of 2.5 workers for every 100 full-time equivalent employees in 2016. Public sector employees in the state had a higher incidence of injuries at slightly under 4.5 injuries for every 100 full-time equivalent workers.
The Occupational Safety and Health Administration reports that the following types of work-related injuries were reported the most frequently in 2018:
Falls
Struck by accidents
Electrocution
Caught in or between objects or machinery
Eye and face injuries
Burns
Forklift injuries
Toxic exposures
Musculoskeletal injuries
Many workers also develop chronic illnesses from their jobs. These types of injuries can include mesothelioma, other types of cancer, hearing losses, blindness, and others. Workers who have the highest risk of workplace injuries work in the construction, manufacturing, health care, and public safety industries. Even workers who work at jobs that are perceived as being relatively safe can suffer injuries and illnesses because of their jobs. For example, a common type of workplace injury that is suffered by many office workers is carpal tunnel syndrome.
Steps to take
There are several things that you should do to protect your workers' compensation claim when you have been injured or have suffered an illness because of your job. When you have been injured or have learned that you have developed an illness because of your job, report it to your employer. You should then seek medical treatment. Make sure that you meet all of the requirements that are outlined by the South Carolina Workers' Compensation Commission. Our attorneys can explain the rules and procedures to help you to avoid making mistakes.
Your employer will choose a doctor for you to see. Make certain that you keep all of your appointments and follow any recommendations that you are given by the physician. Your injuries will be documented by the physician, so it is important for you to explain them in detail. Do not downplay your injuries or exaggerate about them.
Keep an open line of communication with your lawyer. Your attorney will keep what you tell to him or her confidential. You will need to explain what happened to your attorney and to tell him or her about any pre-existing injuries or medical conditions that you have. Being honest is crucial so that your case will be stronger.
When you are dealing with the insurance company, do not agree to sign a document or to provide a recorded statement without talking to your attorney first. Avoid talking to people who ask you about your injuries. Insurance companies frequently hire private investigators to try to uncover evidence that they can use against injured workers. Tell your friends, family, and co-workers to not discuss your injuries or illness with anyone who asks questions about you.
Try to avoid social media. Do not talk about your claim or your injury on social media. A common tactic that is used by insurance companies is to pore over the social media pages of injured people. They do this to find pictures and posts that they might argue show that your injuries are not as severe as you are claiming. You should only discuss your workers' compensation claim with your attorney.
Why are claims denied by the Workers' Compensation Commission?
While most employers in South Carolina are mandated to provide workers' compensation coverage, some employers and insurance companies dispute the claims that are submitted by injured or ill employees. Some common arguments that are raised by employers and insurance carriers include the following:
Your illness is not work-related;
Your injuries resulted from a pre-existing condition;
You are able to return to your job; and
The type of medical treatment that you claim to need is not required by your illness or injury.
Insurance companies have many attorneys who fight workers' compensation claims. It is important for you to have experienced workers' compensation attorneys to fight for you when you have been injured or sickened at your job.
Get help from the workers' compensation attorneys at the Lovely Law Firm
The workers' compensation system is complicated and difficult to navigate. When you have been hurt at work, it is important for you to retain an experienced lawyer to represent your interests. The attorneys at the Lovely Law Firm can advocate for you with the insurance company so that you can focus on your recovery. Contact us today to schedule a consultation at our office in Myrtle Beach.
Let Justin M. Lovely, Amy S. Lawrence and Sarah M. Austin explain worker's compensation and job injury law and fight for you. Call us at 843-839-4111 for a Free Case Evaluation.