Dram Shop actions in South Carolina arise when a bar, also known as a "dram shop," knowingly serves alcohol to an intoxicated person or serves an alcoholic beverage to a person under the age of 21. Dram Shop laws have been a part of South Carolina's common law for a very long time. In fact, the idea that a bar owner can be held liable for the actions of overserved or underage customers has been around since bars were called "dram shops". A "dram" is a unit of measurement that bar owners used to measure whiskey. More recently, the South Carolina legislature codified Dram Shop laws and required that any establishment with a liquor license carry a minimum of $1 million liability insurance.
Dram Shop Liability in Conjunction with Drunk Driving Accident Cases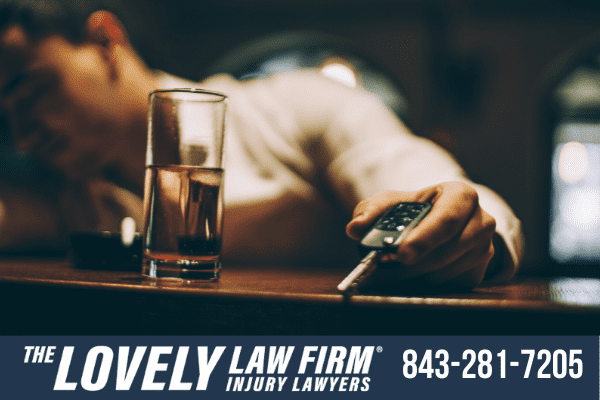 Drunk driving is the number one cause of death in South Carolina automobile cases. The purpose of Dram Shop liability is to "promote public safety, and to prevent an already intoxicated person from becoming even more intoxicated, and thus an even greater risk to the public at large when he leaves the establishment." Tobias v. Sports Club, Inc. 332 S.C. 90 (1998). South Carolina courts and the legislature appreciate the great responsibility that bar owners and bartenders have, as well as the unique position that dram shops are in, to identify intoxicated persons and prevent them from becoming more intoxicated before they drive on South Carolina's roadways. While Dram Shop laws most commonly apply to bars, these laws will also apply to social hosts of house parties and retail stores that serve alcohol. Generally, a social host or a retail store owner can be held liable when they serve minors. Moreover, Dram Shop laws are intended to prevent death on our roadways and to keep all South Carolinians safe.
More often than not, drunk drivers carry a minimum liability insurance policy, which is only $25,000.00. This can be devastating for victims of drunk drivers, whose medical bills, alone, can surpass $25,000.00. However, if the impaired driver who caused the accident was served underage, or overserved at a bar, then the bar can be held liable for contributing to the accident and there is an additional $1 million liability insurance for the victim's personal damages and punitive damages. Punitive damages are intended to punish the bar for endangering our community.

Our clients often do not even realize the at-fault driver was charged with DUI. We scour through the accident report looking for arrest codes to determine if the at-fault driver was charged with an alcohol-related offense. It is critical to investigate Dram Shop liability immediately after the accident because important evidence such as videos, receipts, and the opportunity to speak with witnesses can be lost over time. Our office immediately gets a private investigator to the scene to gather witness statements and canvas the area for video surveillance. We often work backwards and journey down rabbit holes until we can paint a clear picture of where and how many places the drunk driver was over-served. This step in the case can reveal additional insurance policies that may come into play for the injured victim. Once we find a bar that could be held liable, we investigate the following:
The Bar's social media profiles

Photograph the exterior and interior of the bar

Photograph the menu and alcohol menus (protip – sometimes the menu itself has alcohol content of the drinks!)

Does the bar advertise for Taxi Services?

Photograph the business license for true corporate entity name

FOIA the alcohol records from SC Department of Revenue

FOIA previous 911 calls and incident reports at the bar

Point of View video record from the bar to the accident scene to document the path of travel and verify additional videos of bars that could have been visited.

Surveillance of the bar during business hours

What are the tab start procedures of the bar or restaurant?

Do the bartenders or servers interview patrons before serving the alcohol?

Prior Litigation?

Follow any additional information the investigator finds
How Long Will My Dram Shop Liability Case take in South Carolina
There is never a set/standard amount of time – every case, and every insurance company is different. We were able to get a fast turnaround for clients, but sometimes circumstances dictate it will take longer. You can help yourself possibly reach a faster conclusion by calling us quickly, just like you'll hear Will did as he tells his story below.
What is the Average Settlement in A Dram Shop Liability Case?
The average settlement in a Dram Shop case is substantially more than cases without Dram Shop liability. This is because there is more liability insurance to collect. However, Dram Shop cases usually take longer than cases without Dram Shop liability. This is because we will sometimes have to file a lawsuit in order to complete a thorough investigation of the bar and bartenders' actions. Naturally, we want to obtain our settlement funds as quickly as possible but large corporate bars will not simply roll over. We must go through the litigation process with the client in order to maximize the recovery. Patience is key as we navigate a post-Covid litigation world with delays and time extensions. Rest Assured however that we will push your dram shop case forward in order to achieve the outcome we believe your case deserves as fast as practical.

The critical component of these cases is how much was too much? Everyone should be aware that operating a motor vehicle with a BAC over .08 is considered impaired driving. In cases against bars or restaurants for overserving alcohol, we must show that the person was materially and appreciably impaired. Visible intoxication is not required. Restaurants and Bars must train their bartenders and servers to be on the lookout for guests who may have had too much to drink.

Bars will often deny these claims. Remember the plaintiff has the burden of proof. We will hire and employ alcohol experts in both training and toxicology to help nail down a timeline and prove your case. We work with the victim's advocate office and the Solicitor to also obtain the criminal file in the event the at-fault driver was charged with DUI or Felony DUI. The criminal investigation can provide great evidence that further helps the civil lawsuit. Often the at-fault driver's own criminal defense lawyer will reach out to us to attempt to mitigate the damages on the criminal side and lessen the penalty at sentencing.

If you or a loved one are hit by a drunk or impaired driver, then your case will be immediately investigated for potential Dram Shop liability. The Lovely Law Firm will investigate Dram Shop liability in any case where there is a victim of a drunk driver, whether that drunk driver was served underage or over-served at a bar, house party, or retail store. If there is any evidence of Dram Shop liability, then we will discuss the specific needs of your case to ensure that you are fairly compensated and that our community is protected from drunk drivers.
The Carolina Justice Report Discussion on Dram Shop Liability
Our attorneys Amy Lawrence, Sarah Austin, and Justin Lovely discuss the laws, liability insurances, and the investigative process involved in drunk driving accident cases.
What our South Carolina Drunk Driving Accident Clients Say
We live in Kentucky and were involved in a wreck in myrtle beach. We were hit by an uninsured drunk driver. Our insurance would not cover even our medical bills. We googled lawyers in Myrtle Beach that accepted our legal insurance there were only 2 so we chose the 1 with the cheapest rate but turns out that we chose the best. Allison & John Paul were amazing. We never had to wonder what was going on. They kept us informed even when they had nothing new to report. To be hundreds of miles away they still worked hard for us. I would rate them more stars if that was a choice.

Jindy H.
⭐⭐⭐⭐⭐⭐
---