Commercial trucks are substantially heavier and larger than passenger vehicles. The Federal Highway Administration reports that trucks are allowed to weigh as much as 80,000 pounds. While there are no federal limits on the length of trucks other than those transporting cars, states set length and height standards with which trucking companies must comply. Because of the disparity in the weight and size of large trucks and passenger vehicles, accidents involving large trucks are much likelier to cause serious injuries and deaths than other types of accidents. If you are injured in a truck accident in Myrtle Beach or a nearby city, you will need the help of an experienced truck accident lawyer.
In 2017 alone, the Federal Motor Carrier Safety Administration reports that 450,000 large truck collisions were reported to the police. Out of those accidents, 344,000 resulted in injuries, and 4,237 resulted in fatalities. The risks involved with large truck accidents have resulted in stringent regulations of the industry.
Truck Driver Regulations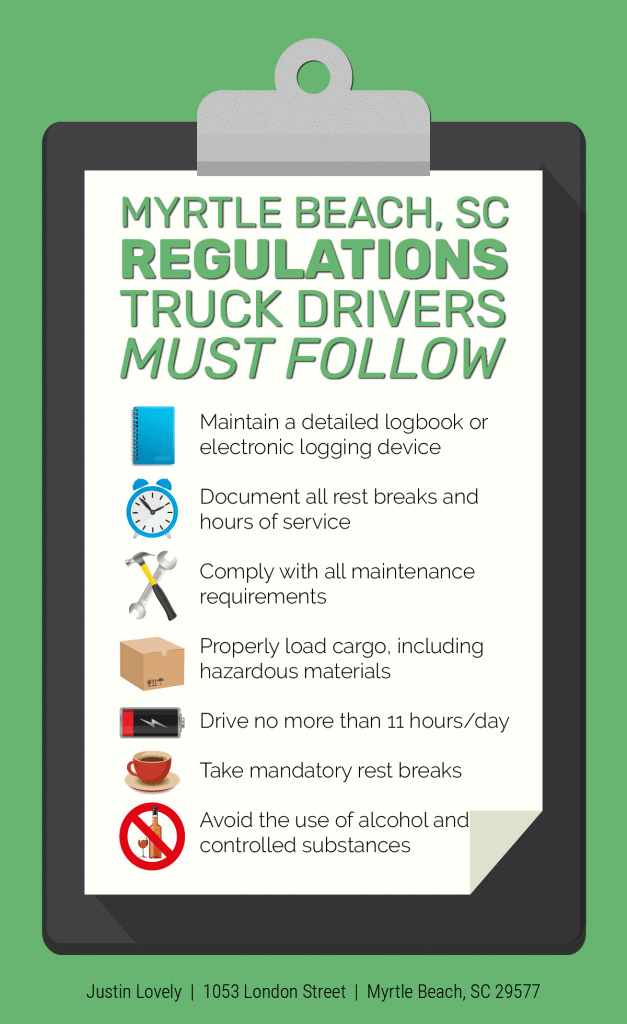 Because of the risks involved with the work of truck drivers, the FMCSA enforces regulations with which drivers must strictly adhere. Some of these regulations include the following:
Maintaining detailed logbooks of all of the hours driven or using an electronic logging device
Documenting all rest breaks and hours of service
Complying with all scheduled and legally-mandated maintenance requirements
Proper loading of cargo, including hazardous materials
Driving no more than a maximum of 11 hours in a day
Taking mandatory rest breaks
Avoiding the use of alcohol and controlled substances
The driver regulations are designed to help to reduce the risk of accidents near you. Despite the regulations, however, some drivers fail to strictly adhere to them. When drivers violate the FMCSA regulations and cause accidents, the drivers and their trucking carriers may be liable to pay damages to the injured victims or the families of people who are killed.
How will an attorney help if I am in an accident involving a large truck?
Some people who are injured in large truck accidents wrongly believe that proving liability will be simple. In reality, large truck collisions are among the most complex types of cases to investigate and prove. Trucking companies must carry liability insurance with very high policy limits. When an accident occurs, the insurance and trucking companies defend against potential claims aggressively.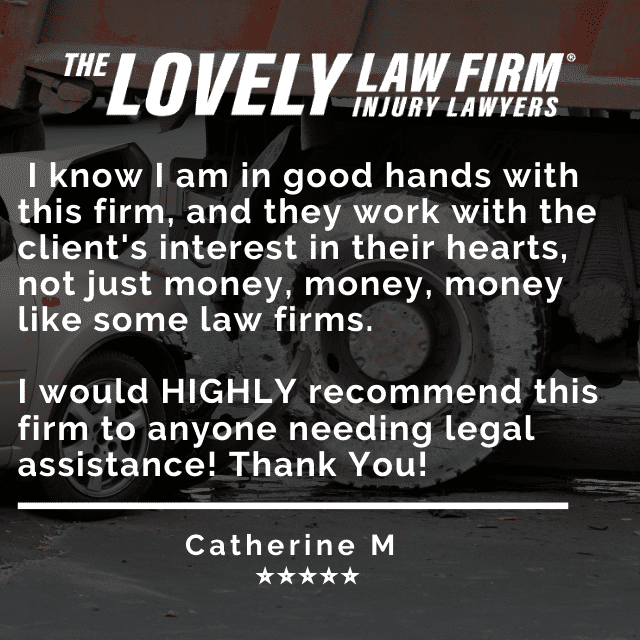 It is common for representatives from the trucking companies and insurance companies to go to the accident scenes soon after they occur to begin their investigations. Trucking and insurance companies often have teams of defense attorneys ready to defend against claims to try to minimize or avoid the damages that the companies might be forced to pay.
The experienced truck accident attorneys at the Lovely Law Firm understand how to investigate truck accidents to build strong cases for our clients. We will examine all aspects of your case.
We often work with investigators and accident reconstruction experts to build strong cases of liability. We might interview and record witnesses, photograph the accident scene, and examine all of the vehicles involved to determine the damage caused by the crash.  We can also help you receive top-quality medical care via a letter of protection if needed.
The accident reconstruction experts may take measurements and perform calculations to help to show what happened in the moments leading up to the accident, the speed of each involved vehicle, and other relevant factors. Some of the steps that we take include the following:
Obtaining and reviewing any available video footage
Locating and interviewing all witnesses of the accident
Reviewing the accident and police reports
Analyzing and reviewing the medical records
Interviewing the treating medical professionals
If necessary, working with accident reconstruction experts to recreate what happened
Filing motions to preserve evidence to ensure that the trucking company and driver do not spoliate the evidence
Obtaining copies of drug and alcohol test results of the truck driver
Obtaining data from the truck's electronic control module or ECM and the ELD
Getting copies of all maintenance and repair records
The specific investigatory steps that we will take will depend on the facts and circumstances of your case. This approach allows us to build stronger cases on behalf of each of our clients who were the victims of truck accidents nearby.
What is the process for filing a claim after being hit by a truck?
After you have been hit by a large truck and have sought medical care, your next step should be to contact the Lovely Law Firm to schedule a consultation. You should not agree to give any statements to a representative from the trucking carrier or the truck driver's insurance company.
You should also avoid signing any documents, including early settlement offers or authorizations to release your medical information. Instead, you can politely tell the insurance or trucking company representative that you do not wish to give any statements or sign any documents without meeting with your attorney.
When you meet with our lawyers, we will examine the facts and circumstances of what occurred and explain the merits of your potential claim. You should bring as much information as possible with you to your appointment. For example, if you took any pictures of the accident scene, the damage to the vehicles, and your injuries, you should bring them to your appointment.
You should also bring lists of witnesses who saw what happened along with their contact information, your medical reports from your accident and treatment, copies of your medical bills, and information documenting the time and earnings that you have lost from work because of your injuries. You should also obtain copies of the police and accident reports. Bringing this information with you can help us to analyze your case.
If we agree to accept representation, we will ask for you to sign a written agreement with your attorney concerning our representation and our fee structure. Once we start representing you in your case, you will communicate with the defendants only through the Lovely Law Firm. You will not have to deal with calls from the insurance company. We will handle all of the communication and negotiation for you.
We will begin the discovery process during which we will collect and investigate the evidence of what occurred, the extent of your injuries, and your likelihood of fully recovering. After we have conducted a thorough initial investigation, we will draft and deliver the injury demand letter to the insurance company.
This letter includes an outline of your legal claims and the demand for monetary damages. The demand letter serves as a starting point for negotiations. We will work to negotiate a fair settlement for you. If the settlement negotiations fail, we will file a formal civil complaint and prepare to go to trial.
A majority of cases settle before trial. However, we prepare each case as if it will go through a trial to improve the chances of securing maximal damages for our clients. If the insurance company refuses to settle, we are unafraid to fight for our clients before a jury to try to secure the most favorable outcome possible.
Here are some additional pages we have to help answer your questions:
Contact an Experienced Truck Accident Attorney Near You
Suffering serious injuries in a truck accident can be life-altering.
If you have been seriously injured in a truck accident or delivery truck accident that was caused by the negligence of the driver, you may be entitled to monetary damages to compensate you for the losses that you have suffered. It is a smart idea to consult with a truck accident lawyer near you.
Contact the Lovely Law Firm today to schedule a free consultation by calling us at 843-839-4111 or by filling out our online contact form.
Not from Myrtle Beach? We also serve areas all over South Carolina. Connect with a truck accident lawyer in Columbia, truck accident lawyer in Murrells Inlet, truck accident lawyer in North Charleston, truck accident lawyer in Florence, or a truck accident lawyer in Conway. 
Learn more on South Carolina Car Seat Laws.
What Our Customers Have to Say on Google
Handled my accident settlement in a timely manner and got me a much larger sum than I had expected. I highly recommend them to anybody looking for legal help.

K.T.

⭐⭐⭐⭐⭐