According to the Federal Motor Carrier Safety Administration's Large Truck and Bus Crash Facts report, an estimated 450,000 crashes involving large trucks were reported to law enforcement agencies in 2017. Among these accidents, 4,237 caused the deaths of one or more people, and 344,000 resulted in injuries.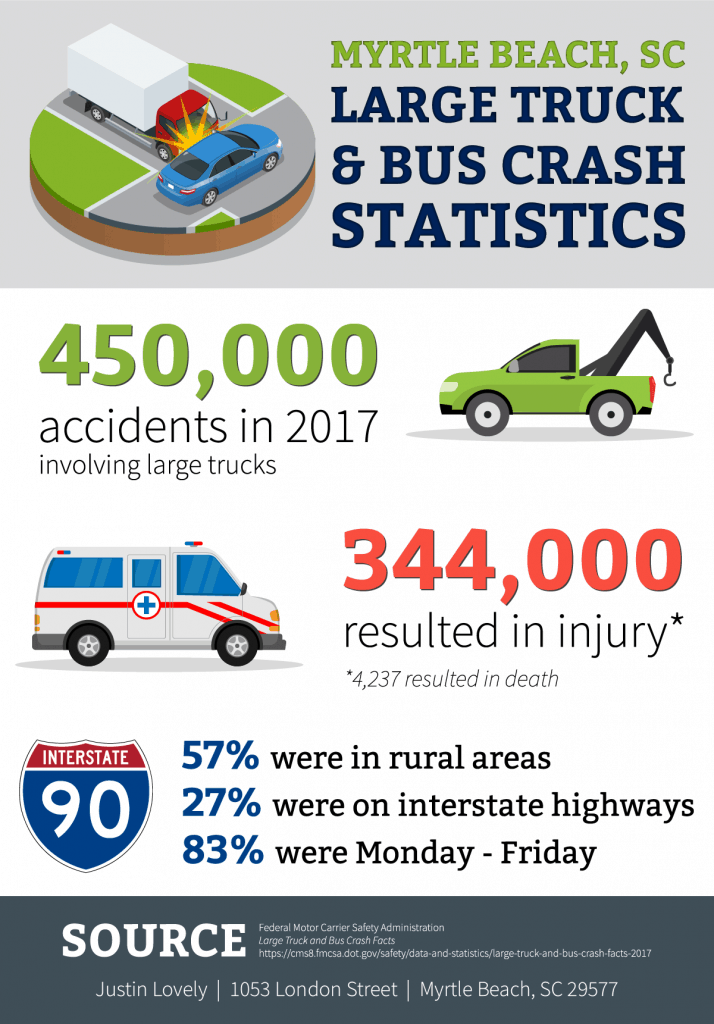 A majority of fatal large truck collisions happened in rural areas at 57% while 27% occurred on interstate highways. The workweek is the most dangerous time for large truck crashes with 83% of the fatal accidents occurring from Monday through Friday.
Understanding when, where, and how commercial truck accidents occur can help people to reduce the risks of collisions.
Causes of semi-truck crashes
The National Highway Traffic Safety Administration undertook a three-year study of the causes of large truck crashes called the Large Truck Crash Causation Study. This study revealed several causes of semi-truck accidents, including the following:
Driver fatigue or falling asleep – 8% of fatal accidents
Driver inattention – 6% of fatal accidents
Driver distraction – 8% of fatal accidents
Inadequate surveillance – 11% of fatal accidents
Driving too fast for conditions or traffic – 9% of fatal accidents
Following too closely – 3% of fatal accidents
Poor maintenance/equipment failures – 8% of fatal accidents
In addition to these driver and vehicle factors, other causes were identified. These include poorly maintained roads, inclement weather conditions, improper loading of cargo, and defective parts. Determining all of the causes that contributed to a truck collision is important for the victims. This is because each party that contributed to the accident's cause may be held to be liable for his or her degree of the fault.
If a plaintiff fails to identify all of the parties that contributed to the accident and to name them as defendants, the plaintiff will not be able to recover the percentage of damages that are attributed to the party that was not named as a defendant to a lawsuit.
Types of accidents
Many different types of accidents can be caused by large trucks. Some of the common types of large truck accidents include the following:
Rollover accidents
Head-on collisions
Rear-end collisions
Jackknife accidents
Blindspot accidents
Underride accidents
Tire blowouts
Many rollover accidents involving large trucks are caused by truck drivers taking curves too fast, causing the trucks to overturn. Rollover truck accidents can cause collisions with other motor vehicles by the trucks overturning on top of the vehicles or blocking the path of oncoming vehicles that are unable to avoid the overturned trucks. Trucks can also cause other vehicles to roll over when they strike them in collisions.
The FMCSA found that there is an average of 4,000 head-on collisions caused by large trucks each year in the U.S. Head-on collisions can result from driver distraction, lack of familiarity with the roads, debris from previous accidents in the road, poor weather conditions, fatigued driving, and impairment by alcohol or drugs.
The weight of large trucks means that they require much greater braking distances than smaller vehicles to come to a stop. When a truck driver fails to slow down in time for slowed or stopped traffic ahead, a rear-end truck collision can occur. Rear-end truck accidents frequently occur because of driver inattention, inadequate surveillance, driver distraction, and following too closely. Many rear-end collisions occur in construction zones when drivers fail to slow down enough to prevent colliding in the rear of slower-moving vehicles ahead of them.
Jackknife accidents occur when truck drivers lose control of the trailers of their trucks, causing the trailers to slide out sideways in a V or L shape. When a truck jackknifes, it can stretch across several lanes and cause multi-car accidents. Jackknifes are often caused by brakes that lock because of improper braking, driving too fast on slick roads, and the force of other collisions.
Blindspot accidents happen when drivers fail to see vehicles in their blind spots when they change lanes. Because of their size and design, trucks have much larger blind spots than smaller passenger vehicles. The blind spots surround the trucks on all four sides, extending 20 feet in front of the trucks, 30 feet in the rear of the trucks, across a single lane of traffic on the left, and across two lanes of traffic on the right.
Blindspot accidents can be caused by truck drivers who fail to adequately surveil traffic around them when they change lanes. They can also be caused by other drivers who drive in the trucks' blind spots for lengthy periods. Drivers should avoid driving in the blind spots of large trucks as much as possible and should remain far enough back to see the drivers' side mirrors. Finally, you should never pass a large truck on the right.
Underride accidents are particularly dangerous and frequently result in fatalities. These types of accidents can occur from the rear of the trucks or the sides. They occur when a smaller vehicle crashes underneath a large truck, which can shear off the top of the smaller vehicle and crush the passengers. Government data shows that side underride accidents kill an average of 200 people every year in the U.S.
Large trucks have guards on the back to prevent vehicles from sliding underneath. However, side rails have not been mandated. Underride accidents can be the fault of the truck or the passenger vehicle driver. When a truck driver is at fault, an underride accident may happen when the driver fails to check the lane next to the truck and moves over the top of the vehicle while merging into the lane.
Motorists can help to prevent themselves from becoming the victims of underride accidents by maintaining safe distances between their vehicles and the backs of large trucks. They should also pass large trucks quickly after signaling and should not travel in the trucks' blind spots for lengthy periods.
Truck drivers may not realize that they have suffered tire blowouts since the trucks have so many tires. When a tire blows out, the shredded pieces can shoot up into the air from underneath the truck and crash into vehicles behind it. In some cases, tire blowouts may also cause a driver to lose control of a truck and collide into other vehicles traveling around it.
Trucking companies are required to keep their trucks in good working order and must regularly inspect them. When the tires become worn, the companies are supposed to replace them. A tire blowout that causes an accident may point to negligent maintenance by the company or truck owner.
Get help from the experienced truck accident attorneys at the Lovely Law Firm
Truck accidents may be caused by multiple things. Because of the risks involved, truck drivers and trucking companies are required to adhere to the regulations issued by the FMCSA. Drivers are also expected to drive with reasonable caution and to obey the traffic laws to keep themselves and others around them safe on the roads.
When a truck driver or company negligently breaches the duty of care, resulting in an accident, the injured victims and the families of people who are killed may have legal rights to recover damages.
At the Lovely Law Firm, we have experienced Semi Truck Attorneys in Myrtle Beach, SC who are experienced with handling truck accident claims and understand how to identify the causes to clearly show liability. Contact us today to schedule a consultation by calling us at 843.839.4111 or by filling out our contact form.