Myrtle Beach Traffic Offenses
Myrtle Beach Conway Speeding Ticket Lawyers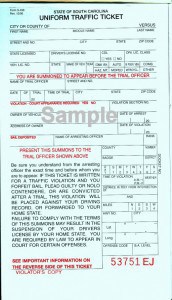 The Lovely Law firm handles all traffic offenses and violations in South Carolina. Whether you were cited by the Highway Patrol, Sheriff's Department, City, or County Police, the Lovely Law Firm can represent you. From Speeding tickets to Reckless Driving violations, the attorneys can defend you. If you have received a ticket in Horry County, Georgetown County, or Marion County call the Lovely Law Firm Today.
It is often possible to fight these speeding or traffic violations in court. The Lawyers at the Lovely Law Firm are experienced in reducing points as well as reducing fines. This allows clients to save on their insurance premiums. Here is a link to show how point system works for a South Carolina Speeding Ticket.
Please see our detailed list of Common Traffic Violations in South Carolina. On this page you will find out the exact point violation for your traffic violation or speeding ticket. Points add up and may cause your license to be suspended in South Carolina or your home state. Out of state drivers can call the Lovely Law Firm to handle their speeding ticket. This saves you time and the expense of appearing in court for the speeding ticket. The Speeding ticket defense lawyers at The Lovely Law Firm make all required court appearances for you.
Call the Lovely Law Firm for aggressive defense of your traffic offenses.