Car Accident Lawyers Serving Goose Creek & North Charleston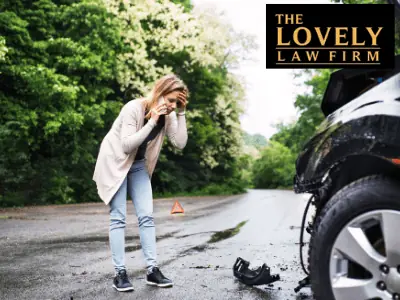 Each year in Charleston, North Charleston, and Goose Creek, South Carolina, a number of automobile collisions happen. While many of these accidents only cause property damage or very minor injuries, others result in serious injuries or deaths. If you suffered serious injuries in a car accident because of the negligent actions of another driver, you are entitled to file a personal injury claim to recover damages. The experienced legal team at The Lovely Law Firm has been fighting for the rights of accident victims for almost 11 years. We have helped many victims to hold the at-fault parties liable so that they could receive fair compensation for their losses.
Over our years of practice, we have established our firm as a leading practice for injured victims. Through our diligence and meticulousness, we have built a strong reputation with the public and our peers in the legal community. Attorney Amy Lawrence has been recognized as a member of the Top 40 under 40 and the Top 100 Trial Lawyers in the state by the National Trial Lawyers. Justin M. Lovely has a perfect client satisfaction rating on Avvo. When you come to the Lovely Law Firm, you will be treated with professionalism and respect as we work to secure the most favorable resolution to your claim.
How Can the Lovely Law Firm Help You?
The legal staff, paralegals, and attorneys at The Lovely Law Firm are focused on helping the victims of negligence recover full compensation for their losses. We care about every one of our clients and understand the devastating impact an accident can have on the lives of our clients and their families. From the very beginning of your case, you can expect us to work hard. We carefully collect and analyze evidence, complete in-depth investigations, interview witnesses, analyze the accident scenes, and do everything necessary to build the strongest possible cases of liability for our client's claims. This front-end work often helps us to demonstrate to insurance companies why it is in their best interests to settle for fair amounts instead of taking our clients' cases to trial. However, if a case does go to trial, our hard work means that we are always ready and able to fight for our clients.
The Lovely Law Firm partners with our clients in building strong cases. We believe that maintaining good communication is key, and we prioritize our clients' questions. If you ever need to ask something, we will gladly take your call and talk to you about your case. We help many clients to recover the following types of damages in their car accident claims:
Past income losses

Past medical bills

Future income losses

Future medical bills

Property damages

Physical pain and suffering

Mental anguish

Reduction in your life's quality

Disfigurement

Disability

loss of consortium for spouses

Loss of guidance for children

Funeral and burial costs in wrongful death cases

The amount a deceased victim would have earned over a lifetime in a wrongful death case

Lost inheritance rights in a wrongful death claim
How much your case might be worth will depend on its unique facts and circumstances. Your lawyer will carefully analyze the evidence and provide you with a range of estimates within which you might expect a fair settlement offer to fall. If the defendant's actions in your case were particularly outrageous such as a hit and run or being hit by a drunk driver, you might also be able to recover punitive damages.
Types of Car Wreck Claims Handled by The Lovely Law Firm
Many different types of accidents happen in and around the city. Different car accident types may result in different types of injuries. You can find more information about some of the accidents we handle below.
Drunk Driving Accidents
Drunk drivers cause many serious accidents every year in South Carolina, including in Charleston, North Charleston, and Goose Creek. Even though driving drunk is illegal, some people still get behind the wheel after they've had too much to drink. If you were hit by a drunk driver, you should call The Lovely Law Firm.
Hit and Run Accidents
Hit and run collisions are problematic because finding and identifying the drivers to hold them accountable can be difficult. If the driver has been found, our attorneys can help you to file a claim against him or her. If the driver is not caught, we can help you to file a claim with your UM/UIM policy with your insurance company and work to secure the compensation to which you should be entitled.
Head-on Collisions
Head-on collisions are frequently fatal events. These accidents happen when a wrong-way driver collides with the front of another vehicle that is traveling in the right direction. For example, a wrong-way driver might enter I-26 and cause a head-on crash with someone else. Many wrong-way drivers are intoxicated. The Lovely Law Firm works hard to hold drivers accountable for their gross negligence and may be able to recover compensatory and punitive damages.
Rear-end Accidents
Rear-end accidents are the most common collisions that happen. In many cases, rear-end collisions occur because of the rear driver's distraction or driver's inattentiveness. However, front drivers occasionally share fault for rear-end accidents. For example, if you are following a driver too close, and he or she slams on his or her brakes to check you, you both may share fault for a resulting accident. Whiplash is common in rear-end crashes. You might also suffer other types of injuries.
T-bone Collisions
In a T-bone accident, one driver collides into a vehicle's side. These types of collisions commonly happen when someone runs a stop sign to enter a road from a side street or in intersections by running a stoplight. Depending on the speed and the area of impact, a T-bone collision can be fatal.
Chain-reaction Crashes
While chain-reaction crashes or pileups happen infrequently, they can cause significant damage and injuries to many people. A pileup might occur on an interstate like I-26 during periods of bad weather or traffic congestion. The attorneys at The Lovely Law Firm can analyze a chain-reaction crash to determine the liability of different parties.
Rollover Crashes
A rollover wreck can be dangerous. Rollover accidents typically happen when drivers lose control of their vehicles, causing their vehicles to spin and rollover. Many rollover accidents are caused by speeding, driving too fast for weather conditions, or collisions. Occupants who are not wearing seatbelts may be thrown from the vehicles and be crushed beneath the car or truck as it rolls.
Common Causes of Car Accidents
Stanford University reports that 90% of motor vehicle collisions are caused by human error. The following issues cause many car accidents:
Tailgating

Careless driving

Speeding

Running traffic control devices

Reckless driving

Driving under the influence of alcohol or drugs

Failing to repair a vehicle

Road maintenance neglect

Defective car parts

Distracted driving

Driving too fast for conditions
Some accidents are caused by the actions of multiple parties. Our attorneys analyze all of the evidence to make a determination of liability and to figure out who should be named as a defendant. This helps us to maximize our client's recovery amounts.
Roads With the Greatest Number of Accidents
South Carolina is infamous for having the highest accident fatality rate in the U.S. Because of the influx of tourists and winding roads, many accidents happen in the area. I-26 accounts for many accidents each year. An especially notorious intersection is located at Ashley Phosphate Road and Interstate 26. From 2011 and 2015, 629 accidents happened at that intersection.
Common Types of Auto Accident Injuries
Depending on the type of collision, a victim might suffer any of the following injuries:
Serious lacerations

Neck or head injuries

Fractures of the skull

Spinal cord injuries

Traumatic brain injuries

Multiple bone breaks

Paralysis

Amputations

Organ damage

Death
If you are involved in a serious car wreck, you might have numerous injuries that might force you to undergo extensive medical treatment and ongoing rehabilitation. Our attorneys are compassionate and understand how your life can be altered after you suffer severe injuries because of the negligence of others.
Call a Lawyer at The Lovely Law Firm
Whether your accident involved distracted driving or any other type of driver negligence, you might be able to recover full compensation for your resulting losses. Working with an experienced Goose Creek injury lawyer at The Lovely Law Firm may increase the likelihood that you will prevail in your claim. Contact us today to schedule a consultation so that you can learn more about your claim.
Not in North Charleston? We serve many areas in South Carolina. Get in touch with one of our experienced car accident lawyers in Myrtle Beach, car accident lawyers in Florence, car accident lawyers in Columbia, or car accident lawyers in Murrells Inlet.