Defective Hip Implant Lawsuits
People who have limited mobility and who experience severe pain in their hip joints may get hip implants to replace their natural joints. Doctors place these devices in patients' hip joints and femurs during hip replacement surgeries. Hip replacement implants can improve mobility and reduce pain that people experience. However, if the implants fail, the patients may experience severe pain and have to undergo hip revision surgeries to repair or replace their implants.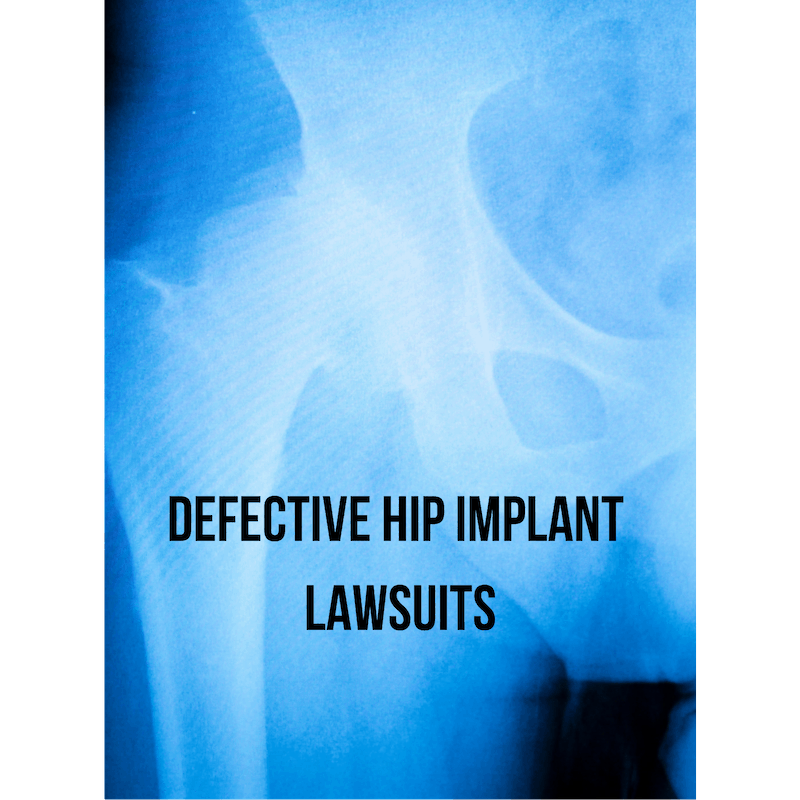 Hip revision surgery is an invasive surgery that requires surgeons to break the previous implants so that they can be removed. The surgery itself causes more health risks for patients. Patients who have experienced hip replacement implant failures and have undergone surgeries to repair or replace them often file defective hip implant lawsuits. These lawsuits may allow patients to recover damages to compensate them for the economic and noneconomic losses that they have suffered. Getting help from attorneys who handle defective hip implant lawsuits might help people to recover compensation.
Types of hip replacement implants
There are many hip replacement implants on the market. Some of the implants that have been the subject of litigation include the following models:
Stryker V40
Zimmer M/L taper
Depuy ASR
DePuy Pinnacle
Stryker Rejuvenate
Stryker ABGII
The federal Food and Drug Administration has received tens of thousands of adverse reports about these and other hip replacement implant devices. Hip implants that feature metal on metal instead of using plastic carry the highest risks for patients, and they are the type of implant that has led to thousands of lawsuits across the U.S.
Injuries and complications from defective hip implants
Today's artificial hip implants can last for up to 30 years because the manufacturers are using stronger materials. However, some devices have had high failure rates that have occurred in fewer than five years. These devices with high failure rates include metal on metal replacement hips from multiple manufacturers such as Zimmer Holdings and Depuy Orthopaedics as well as ceramic replacements from Stryker.
Many of the defective hip implants were not tested in humans before they were released to the market. This is because of fast-track FDA approval under the special 501(K) rules. These rules allow devices that have substantial similarities to other devices that are already being sold to have expedited approval with minimal testing requirements. Some of the common injuries and complications from defective hip implants that might lead to a lawsuit include the following:
Increased risk of revision surgery within five years of the initial replacement
Metal poisoning
Infection
Bone loss
Loosened components
Reduced mobility and pain
People who have had hip replacement surgery using recalled devices or any type of implant that has metal on metal construction need to understand the potential complications. They should seek regular testing to check for the signs and symptoms of implant failure.
Hip replacement lawsuits against Depuy
A subsidiary of Johnson & Johnson, Depuy manufactures different types of medical devices, including the Depuy ASR Hip Resurfacing and Acetabular devices and the Depuy Pinnacle device. In 2010, the ASR devices were recalled because of their high rates of failure. Depuy stopped offering the Pinnacle devices in 2013 because of stronger hip replacement regulations from the FDA. These devices feature metal on metal construction and were touted as lasting much longer than other devices that use plastic construction.
Metal on metal hip replacement devices can cause serious complications. When the metal parts rub against each other, it can cause metal ions to be released and to be deposited in different areas of the body. Inflammation can happen around the metal deposits, which can lead to tissue necrosis, pseudotumors, and pain at the site of the implant. People can also suffer from metal poisoning. While poisoning might be rare, cobalt and chromium poisoning are established conditions.
Thousands of lawsuits have been filed against Johnson & Johnson and Depuy because of failed hip implants. In one notable case that reached a verdict in 2016, a federal jury ruled against the two companies and issued a verdict of more than $1 billion for six plaintiffs. Of that amount, $32 million was for compensatory damages, and the remainder was punitive damages.
Hip replacement lawsuits against Stryker
Stryker Orthopedics is also a defendant to thousands of lawsuits for three of its hip replacement devices, including the Stryker V40, the Stryker Rejuvenate, and the Stryker ABGII hip implants. The ABGII and Rejuvenate models were both recalled in 2012, and the company sent letters to all of the people who had received one of these two implants to notify them. The ABGII and Rejuvenate hip implants were modular in design. The friction caused between the components of the neck of the implants cause the release of cobalt and chromium in the blood. Cobalt and chromium in the blood can cause irreversible soft tissue damage, destroying tendons and muscle while inhibiting bone growth.
In 2016, Stryker recalled the LFIT V40 hip replacement devices. These devices included femoral heads that caused many hip implant failures and complications. Some of the problems that people have experienced include the following:
Release of metallic debris
Detachment of the femoral head from the hip stem
Fractures
These complications can cause severe pain and necessitate hip revision surgery.
Defective Hip implant lawsuits against Zimmer
Zimmer is one of the biggest medical device companies in the world, employing more than 8,000 people. The company has been named in many lawsuits because of defective Zimmer M/L Taper devices. These hip implants use a modular construction that has caused serious complications. The modular neck can corrode, causing excessive metal debris to be released into the body. This can cause the following complications:
Pain
Metallosis
Loosening and dislocation
Fractures
Surgery to revise the implant
In 2015, Zimmer issued a voluntary Class 1 recall of the Zimmer M/L Taper hip replacement systems. Multiple lawsuits have been filed in state and federal court against Zimmer. On Oct. 26, 2018, the Multidistrict Litigation Panel issued an order consolidating numerous cases against Zimmer that had been filed in the U.S. District Court for the Southern District of New York into a multidistrict litigation.
What to do if you think that your hip implant might be failing
If you received one of these implants or are uncertain which type of hip implant that you received and are suffering from pain, reduced mobility, and other complications, it is a good idea to talk to a lawyer who handles complex products liability matters. If you have undergone a revision to fix your implant or have had a chromium and cobalt test, you likely received a defective hip implant. Our law firm can review your records and explain whether or not you appear to have a valid claim to support a lawsuit. Contact us today to schedule a confidential consultation so that you can learn about the rights that you might have.