Truvada lawsuits may be available for you or a loved one.
Update 10-25-2021
JCCP in San Francisco California has approximately 19,000 cases so far. The Federal cases in the Northern District of California have about 1500 cases with a scheduled trial date in 2022.
People who are infected by the human immunodeficiency virus and those who are at risk for it may be prescribed an antiretroviral medication that contains tenofovir disproxil. There are a number of medications that contain the ingredient, including Truvada, Atripla, Complera, Stribild, and Viread. These drugs do not cure HIV and AIDs, but they do reduce levels of the virus in the body and can potentially prolong the lives of people who have HIV. Unfortunately, these medications also have severe side effects that can cause serious injury. If you have been seriously injured because of taking one of these drugs, you might benefit from consulting with an experienced lawyer. An attorney may advise you of your rights and whether you have valid grounds to file a lawsuit against the drug manufacturer.
What is tenofovir disproxil?
Tenofovir disproxil or TDF is a nucleotide analog that interferes with a specific enzyme called reverse transcriptase. Cells that are infected with the human immunodeficiency virus use reverse transcriptase to make new copies of the virus and spread it within the body. Medications that contain this ingredient are used in combination with other drugs to slow the progression of the disease. The Centers for Disease Control and Prevention also recommends that people who are at risk for exposure to the virus take this type of medication as a prophylactic measure to prevent infection. While this class of drugs does help to slow the progression of AIDs, they also can cause some severe side effects. Drugs that contain this key ingredient include the following: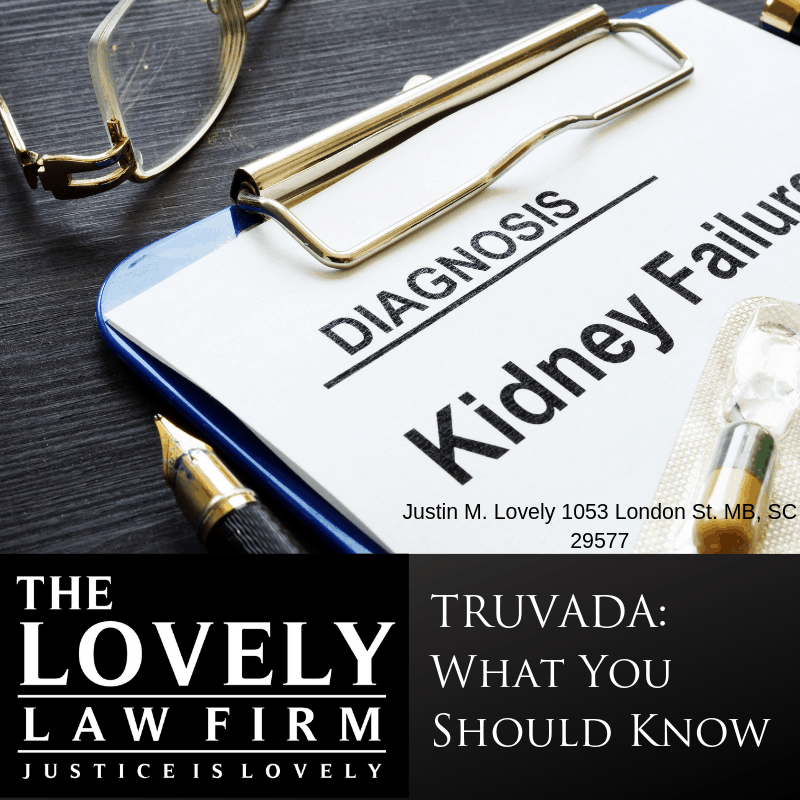 Truvada
Atripla
Complera
Stribild
And Viread
Side effects and injuries from TDF-containing medications
The potential side effects and injuries from antiretroviral drugs that contain TDF are severe and include the following:
Renal impairment
Kidney failure
Brittle bones
Broken bones
Osteoporosis
Truvada's manufacturer, Gilead, continued to market the drug despite the availability of a safer alternative to TDF called tenofovir alafenamide fumarate or TAF. TAF is also manufactured by Gilead Sciences and is a reverse transcriptase inhibitor. So what is the history of the Truvada Lawsuits?
Truvada's approval by the FDA was issued in 2004 for the treatment of human immunodeficiency virus (HIV). In 2012, the drug was approved for pre-exposure prophylaxis. The drugs that contain TDF can cause people to develop brittle bones and osteoporosis, which can lead to frequent fractures. Thousands of people who have been prescribed TDF-based drugs have also reported suffering kidney problems, including renal impairment and kidney failure. People whose kidneys fail may face ongoing dialysis treatments multiple times per week and can die if they are unable to get kidney transplants.
Gilead Truvada lawsuits
Multiple lawsuits have been filed by plaintiffs from numerous states against Gilead Sciences, which is based in San Francisco, California. The plaintiffs allege that Gilead Sciences withheld TAF, the safer version of tenofovir-based drugs, for more than 10 years in order to squeeze more profits by timing its patents. The plaintiffs claim that Gilead Sciences wanted to maximize the profits that it could earn from the older TDF drug before applying for a patent for the safer alternative. By timing the patent, Gilead could then corner the market for its antiretroviral medications through 2038.
As a result of Gilead's actions, the plaintiffs allege that hundreds of thousands of HIV patients in the U.S. suffered serious injuries as a result of taking TDF either to treat their diseases or to prevent them. According to the mass tort litigation, Gilead Sciences allegedly withheld some of the results from its clinical trials that showed that the complications from TDF-based drugs were much more severe than the company disclosed to the FDA.
Gilead obtained the patent for TAF in 2015, which will last until 2038. In its patent application for TAF, Gilead relied on data from 2005 that demonstrated that TAF was much safer than TDF but still waited to secure its patent for 10 more years. This forced patients to continue using the far more dangerous drugs containing TAF.
Potential damages in Truvada Lawsuits
People who live with the human immunodeficiency virus (HIV) or who are at risk for developing it may have taken one of the TDF-containing medications. These drugs can cause serious injuries, including death. By filing lawsuits against the drug manufacturers, injured victims may be able to hold Gilead and others liable for their actions.
Every Truvada lawsuit is unique and the potential compensation that might be available will vary from case to case. Depending on the severity of your injuries, you may be able to recover a variety of different types of general and special damages. Special damages are awarded for your actual pecuniary losses and might include the following types:
Funeral and burial costs if the patients died from their injuries
Past and future medical costs
Income losses
Expected income losses in the future
General damages are more nebulous and might include the following types:
Physical pain and suffering
Emotional trauma
Reduction in your ability to enjoy life
Loss of consortium for spouses
In addition to general and special damages, punitive damages might also be available in these Truvada Lawsuits. Punitive damages are meant to deter future misconduct and are awarded in addition to compensatory damages in cases that are particularly egregious.
In the case of Gilead Sciences, it is possible that punitive damages might be awarded if it is proven that the company withheld research from the FDA and sat on a safer alternative for 10 years to try to increase its profits.
Get help from an injury lawyer
If you have suffered broken bones or kidney disease after taking one of the TDF-containing medications, you may be eligible to file a lawsuit against the drugmaker. Dangerous drug cases may be complex, making it important to seek help from an experienced attorney. To learn more about the potential rights that you might have in your claim, contact our office today to speak with one of our lawyers.