In This Article:
According to the U.S. Centers for Disease Control and Prevention, approximately 10% of babies born in the U.S. are born prematurely before reaching 37 weeks gestation. Many preterm babies also have a low birth weight of under 5.5 lbs. While most premature infants develop normally and grow to become healthy adults, they frequently require additional support with feeding in the time following their births. Low birth weight and premature infants commonly refuse to breastfeed and suffer from lethargy, making gaining weight more difficult. Because of this problem, underweight and preterm infants often receive supplemental formula. Unfortunately, some infant formula has been linked to a dangerous condition called necrotizing-enterocolitis.
Link Between Formula and Necrotizing Enterocolitis in Preterm and Underweight Infants
Certain brands of infant formula, including Similac and Enfamil, use cow's milk as their base. While premature and underweight infants might need supplemental formula, giving them these types of formula can cause them to develop necrotizing enterocolitis (NEC). Preterm infants who are fed formula are much likelier to develop NEC than infants who are breastfed. Despite this fact, the manufacturer of Similac, Enfamil, and other popular infant formulas have failed to warn parents and health care professionals about the risks of their products.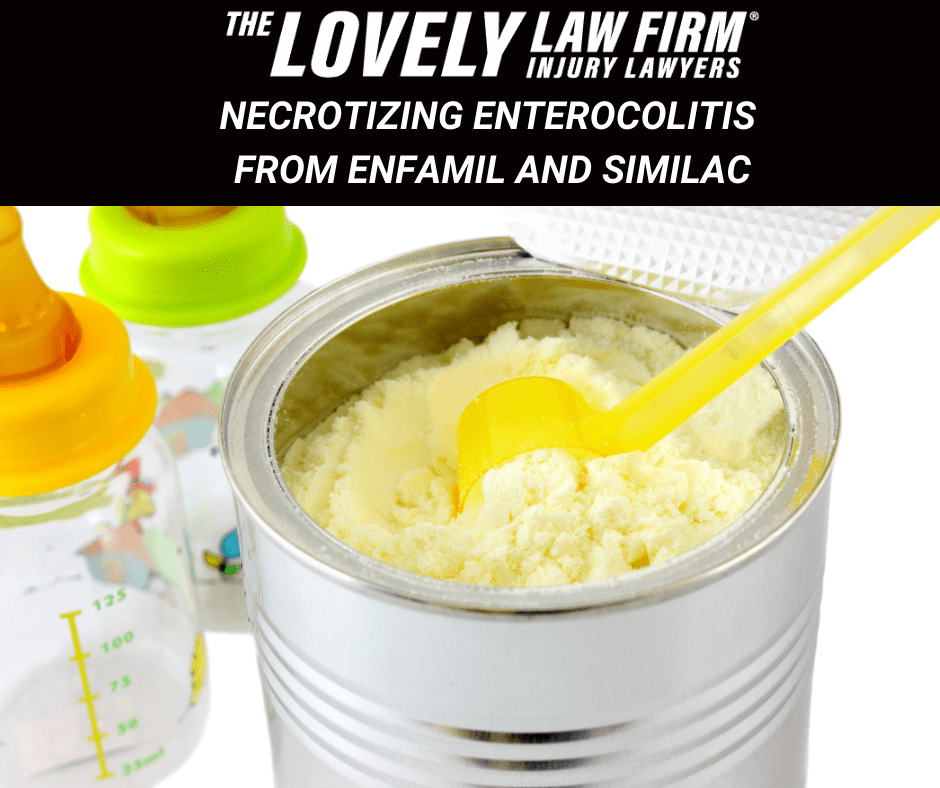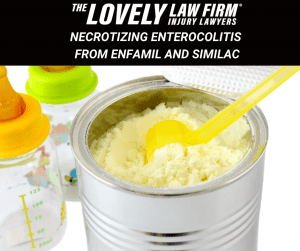 What Is Necrotizing Enterocolitis?
Necrotizing enterocolitis is a disease of the gastrointestinal system. Infants who develop this disease suffer inflammation of the intestine and perforations. Bacteria can then leek through the perforations and stomach and enter the bloodstream. The symptoms of necrotizing enterocolitis can range from mild issues to life-threatening problems and can result in death.
Prematurely born infants have the highest risk of developing NEC. Approximately 90% of cases of necrotizing enterocolitis are diagnosed in preterm infants. The risk is especially high among infants born before 28 weeks of gestation, but infants can also develop NEC after receiving blood transfusions or being fed through the stomach with enteral nutrition. While experts recognize that premature babies have the greatest risk of developing NEC, its underlying cause is unknown. However, receiving supplemental formula based on cow's milk has been shown to exacerbate the risk of developing NEC.
Symptoms of NEC
Infants who develop NEC generally show symptoms within the first two weeks of life. The symptoms may gradually or suddenly appear and include the following:
Abdominal bloating

Bloody stool

Problems with feeding

Diarrhea

Vomiting

Lethargy/lack of energy

Problems regulating body temperature

Unsteady heart rate, blood pressure, or breathing
How is NEC Diagnosed and Treated?
Since preterm infants are known to have a higher risk of developing NEC, doctors and nurses monitor premature babies for the symptoms of the disease. However, some infants will not show immediately obvious symptoms. In those cases, necrotizing enterocolitis might not be diagnosed until a doctor performs an x-ray to check for signs of intestinal damage or air bubbles in the veins of the infant's liver. Doctors might also insert a needle into the infant's abdomen to check for fluid buildup. Fluid building up in the abdomen is a sign that the intestines have a perforation. Blood tests and stool samples might also be used to check for NEC. This disease can range in severity, and the treatment that might be ordered will depend on the following factors:
Infant's age

Infant's strength

Infant's overall health
The treatment provided can greatly vary, including intravenous feeding, cessation of feeding, provision of antibiotics, or bowel or intestine removal in severe cases. Correctly diagnosing and treating NEC early is critical. Approximately 40% of infants who are diagnosed with NEC die from the disease.
How Prevalent is NEC?
Most cases of NEC occur in infants with only a few rare cases occurring in adults. While full-term babies can develop NEC, most cases are diagnosed in premature infants who have low birth weights. Approximately 3% of infants with birthweights of 2lbs 12 ounces to 3lbs 4.9 ounces develop NEC. Among those who are born with weights of under 1lb 10.46 ounces, the prevalence of NEC is much higher at 11%. Many infants who survive NEC will suffer long-term complications because of the disease.
Enfamil and Similac Lawsuits
Abbott Laboratories and Mead Johnson & Co. are two of the largest manufacturers of infant formula in the U.S. Abbot Laboratories is the manufacturer of Similac, and Mead Johnson produces Enfamil. Many families of infants who have developed NEC and have suffered serious injuries have filed lawsuits against Abbott Laboratories and Mead Johnson. These lawsuits allege that Abbott and Mead Johnson failed to include adequate warnings about the dangers associated with their products and the risk infants have of developing NEC from using them.
The plaintiffs allege that the manufacturers knew about these dangers but still failed to provide adequate warnings to new parents and medical professionals, resulting in serious injuries and deaths to premature infants across the U.S. The litigation is still in its early stages, so the personal injury lawyers at The Lovely Law Firm are asking for anyone who believes that their infants may have developed NEC because of feeding with these products to schedule a free case evaluation.
Several lawsuits have already been filed against both manufacturers. One lawsuit filed in the U.S. District Court for the Eastern District of California in May 2021 alleges that Abbott and Mead Johnson failed to provide adequate warnings to doctors and parents about the dangers of using these formulas to feed underweight and preterm infants. The plaintiffs' son died from NEC a few days after he was born in 2019. He weighed 2 pounds and was fed Similac to supplement his nutrition before developing NEC and succumbing to it. Several causes of action are included in the parents' wrongful death actions, including negligent misrepresentation, failure to warn, negligence, and breach of warranty.
In a separate lawsuit filed in Connecticut, a federal judge denied Abbott Laboratories' motion to dismiss in Aug. 2021. That case was filed in Oct. 2020 by the parents of an infant who died from NEC after being fed infant formula. That case will now go before the Connecticut Supreme Court for additional deliberations.
Expected Settlements in NEC Similac and Enfamil Lawsuits
The amount of compensation that might be available in a lawsuit against Abbott Laboratories or Mead & Johnson will vary, depending on the circumstances and facts of each individual case. The outcome of these lawsuits is unclear, and many additional plaintiffs will likely also file lawsuits as awareness grows about the dangers of supplemental feeding with these types of infant formula. In unrelated lawsuits, both of these large companies have been ordered to pay millions of dollars in damages and fines for other past issues. Some of the current lawsuits that are pending involve serious injuries and wrongful deaths linked to Similac and Enfamil. If the plaintiffs prove that the companies are at fault and failed to warn parents and health care professionals about the dangers despite the companies' knowledge of the risks, affected families might receive substantial compensation.
Some of the compensatory damages that might be available include the following:
Past and future medical costs to treat the injuries

Rehabilitation costs

Home health care costs

Physical pain and suffering

Funeral and burial costs in wrongful death claims

Other economic and non-economic damages
If a court finds that the companies knew about the dangers but hid them, punitive damages might also be awarded to punish the companies for egregious conduct and deter them and others from engaging in similar actions in the future.
Contact The Lovely Law Firm
The link between necrotizing enterocolitis and feeding with a supplemental formula that is based on cow's milk has been demonstrated. Plaintiffs believe that these companies have a duty of care to protect children who are fed their products from harm. Despite this duty, the companies continued to market their infant formula products for use with underweight and premature babies even after the link between cows' milk formulas and NEC was discovered.
Because of the thousands of infants born prematurely in the U.S. each year, many will likely receive supplemental nutrition with Enfamil or Similac. This means that numerous lawsuits will likely be filed against Abbott and Mead & Johnson in the next few years. If you believe your infant was injured or died after developing NEC because of the supplemental infant formula he or she received, you should contact the personal injury attorneys at The Lovely Law Firm to learn about your rights. Schedule a free case evaluation by calling us at (843) 281-7452.