---
» WE ARE NO LONGER ACCEPTING GADOLINIUM CASES «
---
Gadolinium Deposition Disease from MRI
Magnetic resonance imaging is a common procedure that doctors use so that they can get clear pictures of the internal organs and structures of the human body. Gadolinium is an agent that provides high contrast so that the systems and structures can be more clearly seen. It was first approved by the FDA in 1987 and has been used by multiple companies as an ingredient in MRI contrast dyes.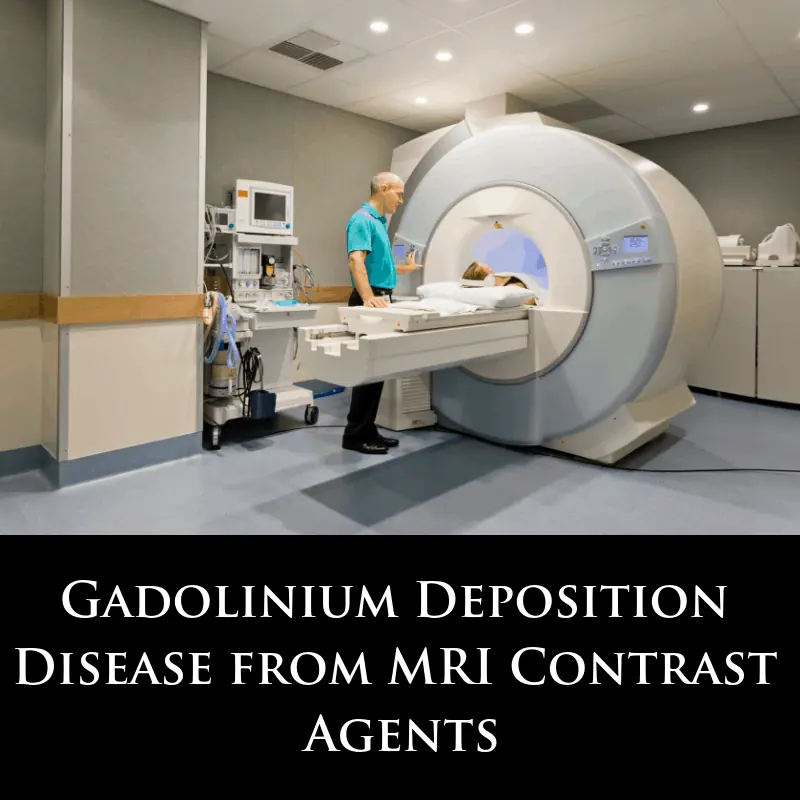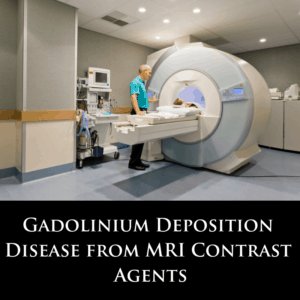 Since 2006, patients and physicians have been raising concerns about the safety of gadolinium, and it has now been linked to diseases, including gadolinium deposition disease, that can cause lasting harm to patients. Patients who have been injured by gadolinium have filed thousands of lawsuits across the U.S. If you have been diagnosed with GDD, it is important for you to talk to a lawyer who is experienced in handling mass tort litigation cases.
What is gadolinium?
Gadolinium is a rare metal element that is highly malleable and has a silvery-white appearance. It contains a high number of neutrons, which makes it an effective choice for MRIs, x-rays, angiography, computed tomography, and ultrasounds. When it is used as a contrast agent, technicians and doctors are able to see the internal structures of the body more easily so that issues can be identified. However, gadolinium can cause serious diseases if the body retains it.
Gadolinium retention can cause ongoing health problems
Normally, people should expel most of the gadolinium in their feces and urine within two to three hours after they have received an MRI or other procedure that used it. The remaining gadolinium should be expelled from the body within the next 96 hours. Gadolinium retention occurs when the metal remains in the body for much longer periods of time than the normal rate of expulsion in people with normal renal functioning. Researchers have found that gadolinium may remain in the brain and other organs for years, including in people who have normal or near-normal renal functioning. When gadolinium is retained by the body, chronic health conditions can result.
Medical conditions that have been linked to gadolinium
Prior to 2006, the adverse health effects of gadolinium were not known. At that time, the primary concerns when using gadolinium centered around short-term side effects. Over the past 12 years, however, several conditions have been linked to gadolinium, including the following:
Gadolinium deposition disease
Nephrogenic systemic fibrosis
Gadolinium storage condition
While NSF is a condition that develops in people who have poor renal functioning, GDD and gadolinium storage condition develop in people who have normal renal functioning. GDD also causes painful, persistent symptoms that can develop within a few hours or weeks following a contrast MRI.
What is Gadolinium Deposition Disease and Do I have a Lawsuit?
Gadolinium deposition disease is caused when gadolinium is deposited in different organs and areas of the body. Gadolinium deposits may build up in several common locations, including the following:
While NSF is found in people who have poor renal functioning, GDD has been identified in people whose kidneys are functioning normally. The condition was recently identified, and there are no standard treatments for it yet. Doctors may prescribe anti-inflammatory drugs to provide relief from some of the symptoms.
Symptoms of GDD
The symptoms of GDD may show within a couple of hours of a contrast MRI or other procedure in which gadolinium was used. The symptoms of GDD may include the following:
Persistent headache/ head pain
Brain fog
Bone pain
Burning of skin
Joint pain
Skin discoloration
Tendons and ligaments that are thickened
Sponge-like appearance of the skin caused by a thickening of subcutaneous tissues
People may experience the symptoms for a short period of time, or they may continue to experience them for months.
In people who have GDD, the headache that they get is described as a severe head pain that is different than other types of headaches. Brain fog refers to a mental confusion that may arise in the early stages of the disease. Sufferers of GDD also report a sensation of burning of skin that arises early in the disease's progression. This may be experienced all over or be localized to the distal extremities or the trunk area. The bone pain and joint pain that is common with GDD is described as an intense boring-type pain. In the later stages of GDD, people may experience skin thickening and skin discoloration that are progressive.
The FDA and gadolinium
Gadolinium in its linear form has been much more strongly linked to the development of GDD than the spherical type. Despite this, linear gadolinium continues to be used in the U.S. The federal Food and Drug Administration has issued multiple warnings about gadolinium but has not pulled it. Instead, the FDA has decided that the benefits of using gadolinium as a contrast agent outweigh the risks. By contrast, the European counterpart to the FDA has placed restrictions on linear gadolinium-based contrast agents and has suspended their use in most cases.
The FDA issued two different health advisories about gadolinium-based contrast agents in 2006 for people who had renal disease. In May 2007, the FDA mandated the inclusion of black-box warnings for GBCAs when used for people with kidney disease. A labeling change was required in 2010 with a focus on minimizing the risk of NSF. In 2014, the first cases of GDD were reported. The FDA announced in 2015 that it was investigating the risks that are associated with brain deposits of gadolinium. The agency warned that GCBAs were retained by the human body. On May 16, 2018, the FDA issued an update to its Dec. 2017 warning. The FDA approved new labels for two brands in July 2018 that warn of the potential for gadolinium retention.
MRI contrast agents in the U.S. that contain gadolinium
There are currently eight gadolinium-based contrast agents that have been approved by the FDA, including the following:
Prohance – generic name gadoteridol
Optimark – generic name gadoversetamide
Omniscan – generic name gadodiamide
MultiHance – generic name gadobenate dimeglumine
Magnevist – generic name gadopentetate dimeglumine
Gadavist – generic name gadobutrol
Eovist – generic name gadoxetate disodium
Dotarem- gadoterate meglumine
Out of these GCBAs, only Prohance, Gadavist, and Dotarem are spherical. The remaining five are all linear forms of the contrast agent.
Gadolinium Deposition Disease lawsuits and updates
Lawsuits have been filed across the U.S. by victims who have developed GDD. The public became more aware of the problems with gadolinium after Gena Norris, the wife of Chuck Norris, filed a lawsuit in Nov. 2017 against 11 drugmakers after she became ill with GDD following a contrast MRI. In 2018, 21 plaintiffs who had filed gadolinium lawsuits in state and federal courts petitioned the Multidistrict Litigation Panel to centralize the cases. However, the panel rejected the request on Oct. 10, 2018, finding that the symptoms were particular to each individual patient. However, the underlying cases are still pending in state and federal courts. It is possible that the cases will be centralized into a multidistrict litigation as more continue to be filed.
What to do if you have GDD
If you have the symptoms of GDD after a contrast MRI or other imaging procedure, it is important for you to consult with a lawyer who handles complex litigation matters and mass tort actions. To learn more, contact us today for a confidential review of your claim.