Flesh-eating Bacteria Dangers at Pools, Hotels, and Hospitals Visitors of water parks and hotels in Myrtle Beach, South Carolina rely on their owners and operators to maintain them in safe conditions. People who have to go to hospitals for medical care likewise rely on the hospital staff to follow sanitary procedures so that they will not contract additional infections. One rare and potentially fatal condition that people can develop during their visits to water parks, hotels, and hospitals is called necrotizing fasciitis. This is a dangerous skin infection that is caused by flesh eating bacteria. While necrotizing fasciitis can be caused by more than one type of bacteria, it is most commonly caused by group A streptococcus. If you have been diagnosed with necrotizing fasciitis or have lost a loved one to this condition, you may have legal rights.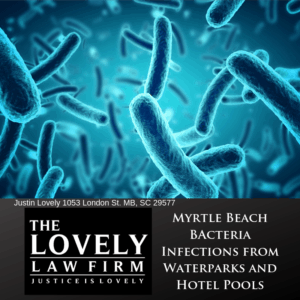 What is necrotizing fasciitis?
Necrotizing fasciitis is a bacterial infection of the skin that spreads very rapidly. People may develop this condition when bacteria are able to enter the skin through scrapes or other broken skin areas. The bacteria kill tissue as the infection spreads. When doctors suspect that patients have necrotizing fasciitis, they administer intravenous antibiotics and often have to remove infected tissue through surgery. This can leave people with permanent scarring and disfigurement. According to the Centers for Disease Control and Prevention, one-third of people who develop this disease will die from it. Since 2010, an estimated 700 to 1,200 cases of necrotizing fasciitis have occurred each year in the U.S.
Why is necrotizing fasciitis dangerous?
Necrotizing fasciitis spreads rapidly and must be diagnosed and treated immediately. Many people who contract this disease develop life-threatening complications, including sepsis, organ failure, and shock. Many people who suffer from necrotizing fasciitis also develop streptococcal toxic shock syndrome. This condition causes people to go into shock and to suffer from extremely low blood pressure. Among people who develop both necrotizing fasciitis and streptococcal toxic shock syndrome, 60% die from their infections. Necrotizing fasciitis can also cause lifelong complications and injuries because of having to undergo multiple surgeries and potentially losing limbs.
How is necrotizing fasciitis contracted?
People commonly contract necrotizing fasciitis when they are in swimming pools, hot tubs, water parks, and other bodies of water that contain streptococcus A. The bacteria can enter the skin through broken areas such as punctures, scrapes, or cuts. Some people who suffer from certain conditions are more likely to contract necrotizing fasciitis, including the following medical conditions:
Diabetes
Cirrhosis of the liver
Cancer
Kidney disease
How to prevent necrotizing fasciitis infections
Owners and operators of water parks, swimming pools, and hot tubs all have a duty to test the water to check for the presence of harmful bacteria. They also should treat the water to kill any bacteria that may be introduced and have recirculating systems to prevent the water from becoming stagnant. Public pools and hot tubs are regulated by the South Carolina Department of Health and Environment under Regulation 51-51. This regulation mandates all public pool operators in the state to have water treatment equipment that is approved by the National Sanitation Foundation installed and to use a proper amount of chlorine or bromine to disinfect the water. The pumps for feeding chemicals have to be wired into the recirculation pumps, and the chemicals must be halted when the recirculation pumps stop.
Pool operators are required to test the water at least three times per week. They should log the results that they obtain. The SCDHE is also allowed to take water samples at any time during the operating hours to test for the presence of bacteria. If the inspectors detect any fecal coliform bacteria, the pool or water park will have to close until the water is treated and satisfactory results are obtained.
What rights do you have when you contract necrotizing fasciitis?
If you or your loved one has contracted necrotizing fasciitis after visiting a public pool, water park, hotel pool, or hot tub, you may have grounds to file a lawsuit against the operator or owner. Owners and operators of hotels, water parks, and public pools owe a duty of care to their guests to maintain their premises in a safe condition. This duty includes the duty to comply with the state's regulations for testing, inspecting, treating, and recirculating the water.
When a pool operator or owner breaches the duty of care to prevent bacteria from building up, people who contract necrotizing fasciitis as a result of the breach may have grounds to file lawsuits against the responsible parties. The potential defendants may include the managers who are responsible for testing the water and supplying it with chemicals and the proper equipment, the companies that own the property, or the cities in which they are located when the public pools are owned and operated by the cities.
Necrotizing fasciitis is also sometimes contracted in hospitals because of negligence. This can happen when medical providers fail to use proper sanitation procedures when they are caring for wounds, giving shots, hooking up IVs, and doing other things that involve breaks in the skin or punctures.
In 2018, the federal Food and Drug Administration issued a warning that people who have diabetes and who take certain types of medications called SLG2 inhibitors may contract a type of necrotizing fasciitis of the genitals called Fournier's gangrene. These medications lower the blood sugar and cause it to be excreted in the urine and may be prescribed to people who have type 2 diabetes. Since bacteria feed on sugar, they may infect the surrounding skin because of the heightened presence of sugar. Some of these medications include the following generics that are sold under a variety of different brand names:
Canagliflozin
Empagliflozin
Dapagliflozin
Ertugliflozin
If you contracted Fournier's gangrene after taking SLG2 inhibitors, you may be able to hold the drug manufacturer liable by filing a dangerous drugs product liability claim.
Potential damages
Because necrotizing fasciitis can cause severe injuries, permanent disabilities, permanent disfigurement, the loss of limbs, and death, the potential damages that may be available can be substantial. The types of damages that might be available to you through a lawsuit might include the following:
Past and future anticipated medical expenses
Past income losses
The future reduction in your ability to earn an income
Physical pain and suffering
Mental anguish
Scarring and disfigurement
Loss of consortium for spouses
Funeral and burial costs if you lost your loved one
Lost rights of inheritance
The amount of money that might be available will depend on the severity and nature of your injuries, the egregiousness of the defendants' actions, and other factors. Your attorney can assess your potential claim and provide you with an estimate of the amount that you might recover in a lawsuit.
Contact a lawyer at the Lovely Law Firm
Necrotizing fasciitis can cause life-altering injuries or death. If you have contracted an infection of flesh eating bacteria or have lost your loved one to it, you may have legal rights to file a claim from damages against the hotel, water park, public pool, hospital, or drug maker that was responsible. A Myrtle Beach injury lawyer at The Lovely Law Firm can evaluate your case and provide you with an assessment of whether you have grounds to file a claim. Contact us today to schedule a consultation to learn more about your rights.