---
SEPTEMBER 2023 UPDATE:

WE ARE NO LONGER ACCEPTING NEW CASES — PLEASE CONTACT A LAWYER IN YOUR HOME STATE

---
In This Article: Dangers of Fiberglass Exposure, Which Mattresses?, Extensive Remediation Costs, Claims Eligibility, Potential Damages, We Can Help
Most people understand the importance of getting enough quality sleep each night, and the mattresses people sleep on are a major contributor to getting sufficient sleep. Over the past decade, many people have purchased bed-in-the-box mattresses as an alternative to traditional innerspring beds. These types of mattresses are comprised of memory foam, which contains highly flammable ingredients. Because of this, the U.S. government requires mattresses to include flame retardant materials to reduce the risks of fires.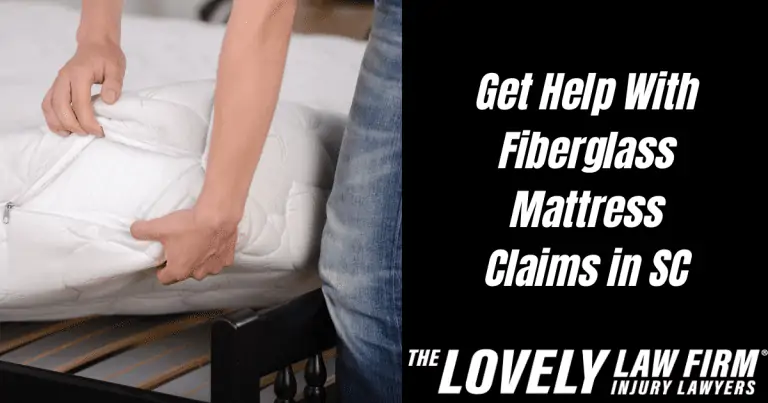 Certain memory foam mattresses are constructed with fiberglass as a fire retardant because it is less expensive than other fire-resistant materials. If the mattress's fiberglass layer is exposed, millions of tiny shards can be released and contaminate your home, requiring expensive home remediation and forcing you to throw away most of your belongings. These particles can also cause injuries. If you have purchased one of the effectively designed mattresses from Nectar, Zinus, or Ashley Furniture, you should speak to the attorneys at The Lovely Law Firm to learn about your potential rights to recover compensation.
Dangers of Fiberglass Exposure
Under 16 CFR § 1632.3, manufacturers of mattresses sold in the U.S. are required to include flame retardants in their products. Some makers of affordable bed-in-the-box mattresses have opted to include fiberglass because it is fire-resistant and very inexpensive to keep their costs low while maximizing their profits. This substance is made out of tiny glass shards that can easily spread throughout your home through its HVAC system and embed in your skin if the fire retardant layer of your mattress is exposed. While it is not a carcinogen, this substance is irritating and can cause a variety of the following types of symptoms:
Rash

Allergic reactions

Dermatitis

Worsened asthma

Upper respiratory infections

Chronic breathing problems

Sore throat

Lung scarring

Coughing

Wheezing
The manufacturers that include this substance in their mattresses include mattress covers with zippers, which has led some consumers to believe that they can safely remove the covers for cleaning. However, when they have removed the covers, the fire retardant layers have been exposed, releasing millions of microscopic glass shards throughout their homes. In some cases, people will have to use inhalers, and the costs of home remediation to remove the tiny shards from the home can cost thousands of dollars.
Affected Mattresses
Several memory foam mattresses manufactured by Ashley Furniture, Nectar, and Zinus include fiberglass fire retardant layers. While these manufacturers claim that consumers can enjoy a restful sleep with their mattresses, many consumers have been harmed after removing the covers for laundering.
The companies allegedly failed to provide adequate warnings to consumers about the dangers of the fiberglass-containing fire retardant layers. While the companies claim that people should not remove the covers, including zippers has led many consumers to believe that doing so is safe. Some lawsuits have been filed against these manufacturers alleging the following causes of action:
Fraudulent concealment

Failure to warn/inadequate warnings

Defective design

Breach of implied warranty

Negligence
A Knoxville, Tennessee man purchased a Zinus mattress in May 2018 and quickly began experiencing rashes and respiratory issues. His pets were also affected. The man reported he had removed the cover to launder it. He subsequently learned that his bed included the problematic materials in its fire-retardant layer, and the particles had spread throughout his home. The man reported he received an estimate for home remediation of $25,500 and was forced to throw out most of his belongings. He is now participating in a class-action lawsuit against the manufacturer.
The affected mattresses from these manufacturers were made in China and are memory foam or hybrid mattresses. Many are sold on Amazon and are cheap. As a general rule of thumb, if you paid $600 or less for your bed-in-the-box, it likely includes the problematic fiberglass-containing layer. You should not remove the cover and regularly inspect it by using a flashlight to check for leaks. The glass shards will sparkle in the light. If it is leaking, you should place it in a safe location outside of your home to retain it as evidence if you want to file a claim.
Some of the affected mattresses include the following:
Ashley memory foam mattresses

Nectar memory foam mattresses

Zinus memory foam mattresses (sold on Amazon)
Nectar encloses its mattresses in a proprietary fiberglass-containing sleeve. The company offers memory foam mattresses for only a few hundred dollars, and all of its mattresses include fiberglass.
Extensive Home Remediation Costs
In addition to injuries caused by exposure to the glass shards from the fire-retardant layers, many people have faced high remediation costs to remove the fibers from their homes. The shards can easily become airborne and spread throughout your home, causing substantial property damage. Since the shards can embed themselves in fabric, many people have been forced to throw away most of their personal belongings, including drapes, furniture, clothing, rugs, and more.
Remediating your home will require the help of professionals, and many remediation companies are not adequately equipped to remove this substance from fabric-covered furniture, carpet, and other soft items. This means that even after having to pay tens of thousands of dollars to a remediation company to remove the fibers from your home, you will still have to dispose of all fabric-covered items and spend several days in a hotel or with friends or family members while the cleanup occurs.
The companies are likely to argue that the affected consumers voided their warranties when they removed the covers from their mattresses to try to avoid liability. However, since the manufacturers included zippers on the outer cover and failed to include adequate warnings about the fiberglass-containing fire-retardant layer, they might still be liable and be forced to pay compensation. While you might be able to get a refund from the manufacturer and a replacement bed, this will not cover the high home remediation costs or the damage caused by the contamination in your home. Filing a toxic mattresses claim might provide you with a way to recover compensation for all of your losses.
Eligibility for Claims
If you purchased a bed-in-the-box from one of these manufacturers and experienced home contamination and/or injuries after removing the cover or leaks, you should speak to the attorneys at The Lovely Law Firm. We can evaluate your case for free and explain whether your potential claim has legal merits. To qualify for a claim, you will need to meet the following eligibility criteria:
You purchased one of the affected mattresses

The fiberglass must have escaped and injured you and/or contaminated your house

You must be within the statute of limitations
The statute of limitations varies based on your state. If you have learned that your home was contaminated by your bed-in-the-box, you should speak to our attorneys immediately to ensure that your right to recover compensation will not be lost. It also takes a significant amount of time to adequately prepare a product liability case, so contacting our firm as soon as possible will provide both you and us with enough time to build a strong case and help to ensure you receive maximum compensation for your losses.
Potential Damages
Some of the types of damages you might recover include the following:
Any fiberglass-related medical bills

Home remediation costs

Replacement of your personal belongings

Pain and suffering damages
Since every case is unique, the types of damages you might expect will depend on the individual facts of your case. One of our experienced attorneys can properly value your claim and help you understand the types of damages you might recover in your claim.
Get Help From the Attorneys at The Lovely Law Firm
If you have learned that your home was contaminated because of your bed-in-the-box mattress's fiberglass layer, you should reach out to the attorneys at The Lovely Law Firm as soon as possible. We have years of experience prosecuting product liability claims and mass tort actions. We are currently accepting toxic mattress claims and can help you understand whether your potential claim has legal merits. To schedule a free consultation, call us today at (843) 281-7452.
See What a Happy Client Says About The Lovely Law Firm on Google
My experience with Lovely Law Firm was excellent. They took care of everything. No followups were required. They kept me informed thru the complete process. I would highly recommend them to anyone that wants a hassle free experience. I would definitely use them again, but I hope I won't need to. Five stars for sure! Thank you for making my life easier.
Susan P.
⭐⭐⭐⭐⭐